Training Seminar organized in Nicosia for Pro-Energy Project by EMS and Frederick University
The Sustainable Energy Research Group (SERG) at Frederick University, acting as a subcontractor of the Department of Electrical and Mechanical Services – Ministry of Transport, Communications and Works of Cyprus (EMS), organized a training seminar on the 1st of July at the PIO building in Nicosia, Cyprus, entitled Energy Saving Practices in Buildings of the Public Sector. The seminar was organized for "Promoting Energy Efficiency in Public Buildings of the Balkan-Mediterranean Territory – Pro-Energy". The training session was organized on the 1st of July 2021, in the te PIO Amphitheatre, in Nicosia, Cyprus, in the presence of 25 civil servants.
The project is implemented under the European Commission Programme"INTERREG Balkan-Mediterranean 2014-2020" and aims to improve the energy efficiency of public buildings (schools, museums, innovation centres).
Speakers at the seminar were Mr Nicholas Panayides from the EMS, Dr Paris Fokaides of Frederick University Cyprus and Ms Soulla Kara of the Cyprus Energy Agency.
Training Seminar organized in Nicosia for Pro-Energy Project by EMS and Frederick University – Panel Presenters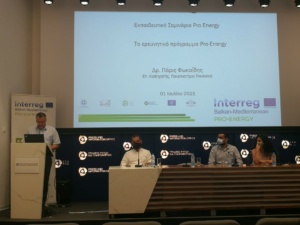 Training Seminar organized in Nicosia for Pro-Energy Project by EMS and Frederick University – Seminar Programme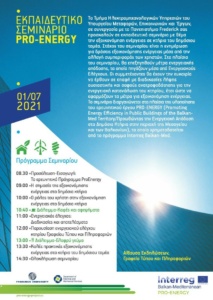 Training Seminar organized in Nicosia for Pro-Energy Project by EMS and Frederick University – Mr. Nicholas Panagides (EMS)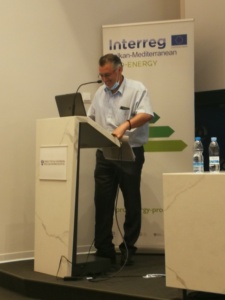 Training Seminar organized in Nicosia for Pro-Energy Project by EMS and Frederick University – Dr Paris A. Fokaides (Frederick University)
Training Seminar organized in Nicosia for Pro-Energy Project by EMS and Frederick University – Ms. Soulla Karra (Cyprus Energy Agency)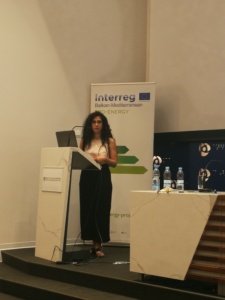 Training Seminar organized in Nicosia for Pro-Energy Project by EMS and Frederick University – View of Audience